Human Trafficking: What is Modern Slavery?
Author: Főadmin Date: 2012. február 22., szerda 15:00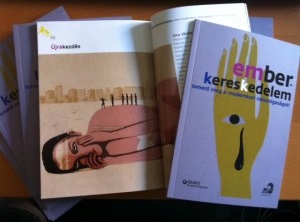 Excerpts from the book:
THE STORY OF MASUD
Masud was 12. His parents were persuaded, tricked and let him be taken from his home in Bangladesh to a new life in England. He was sold - 'Trafficked'.
He left his family's home with an unknown man and travelled with him to London and then onto the South West where he was abandoned in an Indian restaurant. To survive, he worked in the restaurant, living in small store rooms, sleeping next to jars of chutney and bags of onions. Sometimes when there was no work he was forced to sleep on the streets. He was not allowed to go to school and his life was controlled by the restaurant owners.
When he was 28, with the help of STOP THE TRAFFIK, he contacted the local police and immigration team who helped him obtain a passport and identification documents. Having these documents allowed him to return the Bangladesh. He then obtained a UK visa to be reunited with his family.
Masud is now living legally in the UK. He is married and is building a new life away from the restaurants.
ROXANNE
"My sister and I grew up with our father and our grandmother. My father was a violent alcoholic. When he was at home, he often beat us. He spent a lot of time looking for jobs, and it was difficult to survive day to day. I hated school because it made me feel stupid. All that I wanted was a calm life with enough money to afford the things that I saw on TV. Then a guy started to be interested in me. He invited me out, gave me presents, and said he loved me. He said he would find a job in Sweden for me and I would not have to be worried about money anymore. I was so exited… When I arrived in Sweden, I was told that I owed 60.000 Euros to the traffickers, and had to earn it working in a brothel. I said no, and I shouted that this wasn't what I was promised, but they said that I had no choice. They raped me and beat me. I began working as a prostitute..."
THE STORY OF KRISHNA
(Krishna is a 42-year-old woman from a poor Nepalese village.)
"One day a recruiter arrived at our village and looked for the poorer families. He came to me and told me that he could help me with my problems. He promised 60.000 rupees (700 Euros) for a kidney and some more for my son's education. I trusted him and went with him to Madras, India. When I came out of the hospital, he gave me the money, but threatened to kill me if I reported him."
RELATED NEWS
Love without borders
Workers of HBAid in Tacloban again
Five months after the typhoon in Tacloban (Philippines) and its surrounding areas, Hungarian Baptist Aid (HBAid) is rebuilding a school and a kindergarten that were damaged, distributing water purification systems for families, and helping injured children.